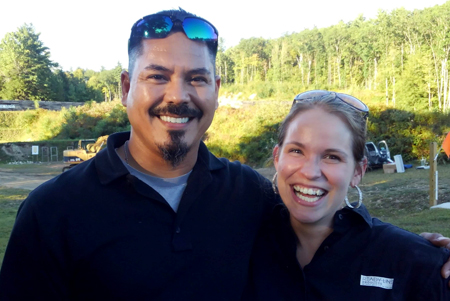 "No one has greater love than this: than to lay down his life for his friends," (John 15:13).
This is a verse my husband lives by
literally every day. It was especially powerful when he was deployed with his unit in Iraq and then again in Afghanistan. He deeply loved the men he served with and we do our best everyday to honor the sacrifice that they made so that my husband may come home to me and our four wonderful children.
His deployments with the Army
did not leave him untouched. He was profoundly affected by the loss of some of his soldiers, who were closer than brothers, and we cope with the mental and physical injuries he sustained on those deployments every single day. One of the things he would do to help him process and cope is build Improvised First Aid Kits.
Our house has probably 20 of these kits
. Everywhere... No Kidding Everywhere. In the kitchen, his vehicle, my vehicle, in the bedroom... You get the idea. We're prepared.
One day he was ragging on me about why
I did not carry a kit with me. "You should. You never know what is out there and you should never be caught without one." Very true. However the kits that were the most common were not conducive for a mom with four small children in tow dragging her purse and her diaper bag everywhere.
I said, "You really want to know why I do not carry a kit?
Here's why. Those bags and pouches that are out there by these other companies are NOT made for moms, working professionals, teachers, pastors, everyday people. They are made for people like you. Former police officers like you, veterans like you. Note: I do not look like a veteran... I'm a mom of 4 who usually forgets to wash her face in the morning and her hair is in a messy bun 99% of the time. In the event of a threat, if someone sees me with that bag, they will assume 2 things: 1.) I probably have training on its contents and 2.) If I am carrying a bag like that then I am also probably carrying something else... Which means I'm no longer just another person. I am a target and so are the kids.
Ready Line Products was born that night
following this very conversation. Our mission is to provide emergency first aid kits for every individual without making them spend half their budget.
We are for moms. We are for Hikers. We are for Hunters. We are for Veterans. We are for Law Enforcement and First Responders.
We provide the kits and training
for all those who want to be Ready When Its On The Line. Place your order or contact us today at caitlin@readylineproducts.com.